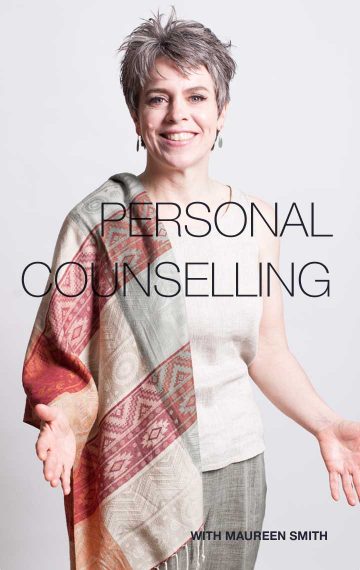 Maureen Smith (MSW, RCSW), is a counsellor and MBSR meditation teacher.  She brings mindfulness tools into her counselling sessions, helping you move through life's challenges smoothly.  Counselling with Maureen is available online or in person in the Cranbrook area of BC.  Individuals and couples welcome.
Message from Maureen Smith:
I want you to be the best you can be. Simply that is my hope, wish and goal for you.
I believe we each want to be the best human we can be. I believe in humanity's amazing potential to awaken and heal ourselves. There are many people on this planet and we all have the opportunity to become more self aware.  To this end I seek to not just live but to thrive and honour our birthright of becoming the best we can be.
My passion is to live in a way that I can do the most good for the most people in the shortest amount of time.  Since life is flying by I need to work quickly and with the most joy possible.  After all life is meant to be an amazing journey of discovery.  I believe that healing ourselves is essential and that real healing starts from within each of us.  My growth accelerates whenever I spent time and energy working closely with great counselors and teachers. Not dissimilar to an apprentice and master relationship which was formally popular for learning skills in arts and trades. I have studied the wisdom traditions for 15 years with many great teachers. The best guides I have found are Doug Duncan and Catherine Pawasarat.   You can find out more about them at Planet Dharma.
I have also studied in universities attaining a Bachelor of Fine Arts, a Bachelor and Master of Social Work. I am a Registered Clinical Social Worker who works with people intent on discovering more about their lives and themselves. I welcome the opportunity to collaborate with you on your journey.
Contact Maureen for more information and to book a counselling session.